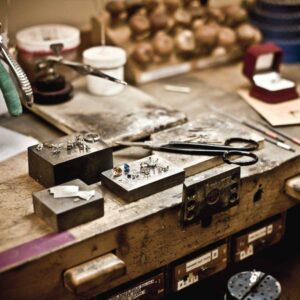 Custom Designs
Our pieces are not only featured in-store but appear in popups all over the world. Our jewelry designs will not only inspire you, they will transform you.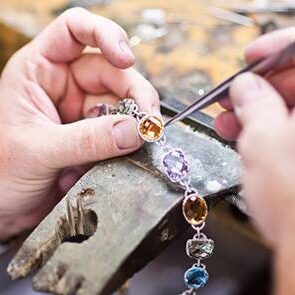 Repair & Maintenance
We have a full range of jewelry and wristwatch repair and maintenance services. From cleaning and tightening to repairing breaks and resizing, our team can help you.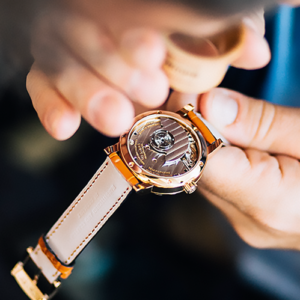 Appraisals
Jewelry appraisals are not just about knowing the value of your jewelry, but understanding its history. Our team can evaluate your jewelry's value and story.
Custom Design
The expert jewelers at Cranford Golden Touch can create anything you desire – no piece is too challenging. We can use gemstones that you already have or create new pieces. We can turn that old, unworn piece of jewelry into something that is new, fresh and exciting. We also provide customization for watches, bracelets and necklaces.
Custom Service Details
Knowledgeable Staff and In-House Jeweler. Not only do we have an extremely knowledgeable and caring staff, but we also have our very own on-site jeweler – Mario. We are dedicated to educating our customers, while also helping to select a beautiful new piece of jewelry.
High Quality Diamonds, Gemstones, and Mount Designs. Enjoy the diamond ring that you have always wanted with custom designs and mounting from Cranford Golden Touch Jewelers. You build your ring by personally picking your diamond. We provide you with better quality diamonds and service than you will find in any chain or department stores.
Repair & Maintenance Services
Our skilled jewelers are certified and experienced to give the attention that your jewelry requires. Your jewelry is a unique piece that you want to cherish for your lifetime. This is possible with its proper care and maintenance. We provide a full range of on-site jewelry repair and refurbishment services. Along with rings, diamonds, and bracelets, we also offer repair services for your valuable timepieces. 
Repair & Maintenance Details
Quick and Efficient Service. Mario, our In-House Jeweler does 99.9% of his repairs in-house! The only time he outsources is if there is a need for a custom cut or specific stone treatment needed. In most cases, repairs and adjustments are made same day or week. 
Regular Cleaning and Inspections. We provide cleaning and inspection services working with gold, silver, and platinum finishes. Whether you bought your jewelry from Cranford Golden Touch or not, cleaning and inspection are always complimentary.
Types of Jewelry Repair. Our trained staff will guide you in taking the right steps when a repair is in order. Our fully equipped on-site repair shop with a dedicated jeweler can facilitate all of your jewelry repair needs. Here are some of the jewelry repairs we offer:
Ring sizing

Polishing

Rhodium plating

Tightening loose stones

Replacing lost stones

Re-tipping prongs

Diamond / Gemstone recutting, and polishing

Pearl and bead restringing

Costume jewelry repair
Types of Watch Repair. By using manufacturer-authorized facilities, we ensure that your items will be as good as new. We understand the importance of preserving your fine watches, and we also provide routine maintenance options:
General repairs

Quartz tune-ups

Battery replacement

Band replacements

and more.
Appraisals
One of the most noted benefits of jewelry appraisals is the establishment of value. Knowing the actual worth is especially important, as the value of gold, silver, platinum, and gemstones can fluctuate without much notice. Therefore, it's important that you have an appraisal at least every five years.
Appraisal Details
Thorough Evaluation of Jewelry Pieces. We understand the importance of adequate appraisals, and we have employed a team of professionals with years of experience providing a wealth of knowledge and outstanding hands-on skills. Our appraisals cover a wide array of jewelry pieces including gemstones, watches, wedding sets, and diamond pendants.
Let's Talk
Consult with our experts about your next jewelry design
Have a question about our services? Want to see if your particular project is one we can help with? We'd love to hear from you! To get a free quote, or if you have questions or special requests, just drop us a line. 
Copyright © 2023 Cranford Golden Touch Jewelers
Website Designed by Diana Oh